Google announced it's new core update on May 4th, 2020. This is the second core update in 2020 by Google and it's search team. The first core update was rolled out in January of 2020 with changes to some of it's AI technology.
Google releases a core update to its algorithm every few months. So it was expected this core update was coming soon, but many believed it may be delayed due to Covid-19.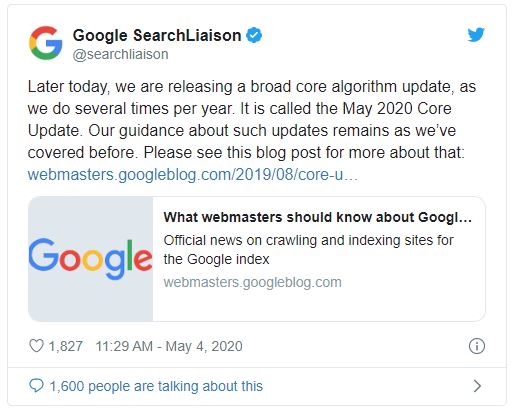 At 3:50 pm Eastern Time, an hour after posting on their Twitter account. Google started its update process; stating it could take "about one to two weeks to fully roll out".
When Google updates search rankings, your website may do better or worse. These updates while sometimes annoying, are also a great way to see shifts in traffic and position rankings. So one of the things SEO'ERS track, is how the new core update affected specific keywords in rankings.
Did your website get affected by the new May Core Update? Let us know in the comments below!